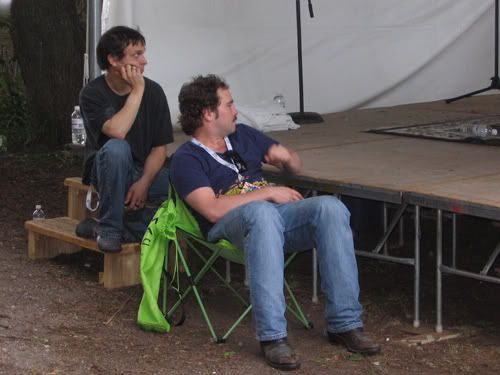 Here's one Evan Cranley, just chillin'. Deciding that he couldn't be bothered to sit on the stairs next to the stage, or stand like everyone else, Mr Cranley marched right up, in front of a small crowd that was standing around, listening to the tunes of Amy Millan/Jason Collett/Luke Ducette/Reg Vermue, and plopped down in his super amazing lime green lawn chair, as if he owned the place. (Please do make note of the ruffled bed head, the super stylin' clothes, and the sexy 'stache.)
The only thing that would have made this even better would have been if he was wearing one of his many mesh shirts and/or his dollar store bling. Because really, it doesn't get any better than mesh and bling.
Oh, EVAN!
To what extent do you agree with the following statement: Evan Cranley is the classiest man to ever grace Our Planet Earth.
1 - I strongly disagree with this statement. There are far classier, sexier men out there. Like Brendan Canning, for example.
2 - I disagree with this statement. Andrew Whiteman is clearly the classier of the two.
3 - I am undecided, but must admit that I find Evan incredibly physically attractive, and believe that his lime green lawn chair only makes him hipper.
4 - I agree with this statement. Evan Cranley is the KING of all things classy.
5 - I strongly agree with this statement. EVAN IS SO HOTT! EVAN 4 PRIME MINISTER!